The door of Hannah's upstairs bedroom slammed open, and there stood her father, filling the doorway with his large frame. Glowering, he stormed over to the bed where Hannah had been reading by candlelight, and grabbed the book from her hand before she had time to react.
"What do you think you are doing?" he roared. Hannah shrank down into the covers, not in fear, but in shame for having been caught red handed with a book that she knew she was wasn't supposed to have.
"I've told you clearly, daughter, there is only one book I want you to be reading, and that's The Good Book", he said, handing her the well-worn Bible from atop her dresser. "It isn't right or proper for you to be filling your mind with the evils of the world, you fill it with the good things of the Lord."
With that, he turned and left the room, taking the banned book with him. Hannah knew that he would toss it in the fireplace downstairs, and she felt sad that she would have to explain it's loss to the friend who had loaned it to her. She didn't see where it was such a bad book, just an adventure story involving a girl who was on a journey to visit every state in the country. Hannah was fascinated by travel stories and tales of other places far away from the small rural religious community where she was growing up. She also didn't think it fair that only girls were banned from reading anything other than the Bible, the thinking being that they didn't need more education or worldly awareness, since their roles would be to become future wives and mothers in the community. There would be no formal schooling or outside jobs for them.
Without a doubt Hannah loved the Lord, and she wanted to live her life in a manner that would be honorable and pleasing to Him and her parents too, but she also loved learning and had a strong desire to experience more of life than was available to her at the present.
That night was to mark a turning point in Hannah's life, it was the night she vowed that when she reached the age of adulthood and the time came to confirm her membership in the church in which she'd been raised, she was going to make the hard choice to take the other road - to gather her belongings and leave the community and family that she loved. She would head out into the world to make her own way, where she could read all the books she wanted and experience all wonders life might hold. Hannah knew that doing so would result in her being banned from returning home forever and she wept at the thought of leaving everything behind, but she had to follow her heart.
~*~*~*~*~*~*~
where the prompts this week are
Beautiful
and
Ban
and for Wednesday Wit and Wisdom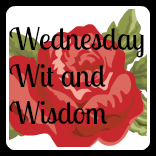 Drop by and share one of your stories with us!