It was May and Mother's Day was fast approaching, sales promotions were everywhere. Zara walked through the store trying not to think about it, but the many gift displays made that next to impossible. This was a hard time of year for Zara, there were too many unresolved issues from her past.
It was no secret that Zara's relationship with her mother hadn't been the best. While she was still alive, Zara had struggled to find a Mother's Day card for her that sounded sincere, but wasn't mushy sweet and sentimental. Now that her mom had been gone for several years, it made Zara even sadder to walk past the card aisle and realize there was no reason to buy one.
Zara and her mother had clashed all the way thru Zara's adolescence, despite the fact that Zara had behaved far better than most of her friends and classmates. They problem was that she was different... she thought different, she dressed different, and said things that weren't quite in sync with main-stream thinking. As middle-class members of the small town they lived in it was important to fit in, and Zara's mother didn't quite know how to deal with a child who often stood out. It didn't matter that she got good grades and stayed out of trouble, people talked, and that was an embarrassment to them.
"Why can't you act like your sisters," Zara's parents often asked her, and when she tried to explain that she was just being true to herself they couldn't comprehend what she was saying. When Zara tried to share things that were important to her with her mother, the response would inevitably be anger or derision, or just being totally ignored. For Zara being ignored was even worse that her mother being angry, to be ignored meant you that had no value at all. Over time she learned to keep everything that meant anything to her at buried deep inside and she built a thick wall around her.
Zara left home one night the summer after high school and didn't return, derailing the plan for her to begin college. She joined a religious cult and moved into a commune. She got married at nineteen to someone her parents didn't approve of, and a year and a half later became a mother herself. Then came a divorce and another marriage, and a second baby, and though Zara's life became more routine, working at an office by day and taking on the tasks of homemaker and mother by night, the hurt that had divided her and her mother never fully healed.
Zara's life path led her a thousand miles from home, and she saw her parents only rarely, they didn't understand that she needed that much space to avoid their interference and feeling judged. She kept the details of her life from them - it was better, it felt safer - even if it felt lonely never being a part of family gatherings on holidays. They had no idea how hard her life really was.
Eventually the children grew up and went off on their own. By then Zara had divorced for the second time, and was planning to marry for the third. Her choice of a partner was totally opposite of what her parents would deem appropriate although he made her happy. Shortly before the wedding she received a long letter from her mother detailing every bad choice and mistake Zara had ever made in her life, and warning her that this marriage was yet going to be another. It was the final straw for Zara. She tore the letter into tiny pieces and drowned it in tears... and she stopped talking to her mother except for the bare minimum of conversation required.
A year later as her mother lay dying in the hospital a thousand miles away they shared a brief telephone conversation. There were no tender words of apology or forgiveness, no acknowledgement that this was their last chance to make things right. Just a few words before the phone was passed back to Zara's father. Zara realized too late that she never got to say goodbye. She flew home to attend the funeral, mourning not so much what had been lost as what had never been.
More than a decade later as another Mother's Day approaches Zara feels the same heartache all over again, missing the sweet memories of childhood, yet saddened by the relationship that never reached the point of understanding. She wishes that her mother was still living so that she could go and tell her that at long last she understood more about what came between them, and although their view of life was very different, they also shared many things that were the same. She realized there were physical and emotional issues her mother had to deal with that didn't register with her as a child.
Zara remembered how much her mother liked to write - just as she does, and she thought about how much her mother would have loved blogging and sharing texts and photos by phone. She noted that people often mentioned how kind her mother was, and it gave her a new perspective. She understood that being a mother is the hardest job in the world, but the love for your child is immeasurable, even if you don't always fully understand. Eventually she came to realize that that final letter pointing out her mistakes had been her Mother's somewhat misguided attempt at pleading with her not to choose an unhappy future, which was ultimately what it turned out to be.
On impulse, Zara chose a Mother's Day card from the store rack, took it home and began to write her heart out, saying all the things that she'd never gotten to say. She sealed it and took it to the cemetery, and buried it near her mother's headstone, then placed a bouquet of Spring flowers over the freshly smoothed dirt. Just as she finished, a red cardinal swooped across the bouquet of flowers and landed briefly on the headstone, cocking it's eye as Zara as if it knew her. Zara smiled at the brightly colored visitor, and saw it as a sign that maybe her mother understood now too.

~*~*~*~*~*~*~
here at my blog
and for Wednesday Wit and Wisdom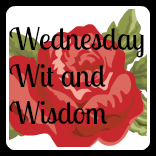 Drop by and share one of your stories with us!