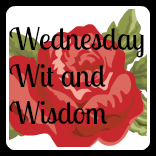 My friend Linda Kay at
Senior Adventures
is starting up a new place for us to share our creative writing. It's called
Wednesday Wit and Wisdom,
here's what she says about it...
"The purpose of this link up is to help us share some stories we might have milling about in our minds as we look at particular photos. Many of us have mentioned that we could "write a story" about a photo of a barn, an old store, or an abandoned residence we have found or shown to others. I thought it would be fun to find a photo and write a short story. You can add a bit of "wit" or "wisdom" if you like. Give it a try and join in!"
I often use photos as inspiration for the short stories I write, so this sounds great to me. If you don't have a photo of your own that you want to use, you can find all kinds of wonderful photos at
Google Images
.
Click on the logo button above and go and read more about it, then come and join us at Linda Kay's blog this Wednesday for some photo/story fun!