Six Sentences From Atop My Soapbox
~Yield~
Yield to the direction of your heart!
It has been said that some solid, concrete people are mixed up and set in their ways. It is easy to become rigid in our thinking over the course of time. Sometimes we become so entrenched in what we believe that we are unwilling or unable to open our minds to another way of thinking. It is our ignorance about those who are different from us that causes us to fear them; fear leads to hatred. We have a choice though, we can yield to what our hearts are trying to tell us. We can begin to believe that we are all one family... we can treat each other with love and compassion... we can surrender to the ways of peace.
~*~*~*~*~*~*~*~*~*
involving over 2000 participants from around the world!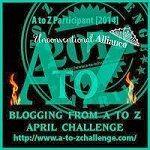 If you enjoy writing, come and join us - You can share your A-Z "Y" post this week!