Six Sentences From Atop My Soapbox
~SILENCE~
Silence is a gift to be cherished
I have worked in offices with phones ringing non-stop all day long that I have learned to love silence. My favorite time is Saturday morning without a sound in my house except the clicking of my keyboard and the purring of my cats.
I know several people who can't abide the quiet, and must have some kind of noise - tv or at least music going every waking minute, and I think that's sad. Music can be wonderful company, and there are a few tv shows I like to watch, but how do we ever hear what our heart and soul are trying to tell us if we are never in a quiet place long enough to listen?
I challenge you to grow comfortable with silence... step away from technology and find a pretty place outside or a comfy place inside, and use the quiet to read, write, meditate, or pray. There is a restfulness in chosen silence, our heart rate and breathing slow, our muscles relax; give yourself the gift of silence for at least a little while each day.
~*~*~*~*~*~*~*~*~*
involving over 2000 participants from around the world!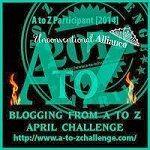 If you enjoy writing, come and join us - You can share your A-Z "S" post this week!