Six Sentences From Atop My Soapbox
~MOVE~
Let go of the past and move on!
The only constant in life is change; nothing stays the same forever, neither can we. There is no undo button or going back in time, and we can't crawl in the corner and hide from life forever. We really only have one choice then, to move on. Sometimes that means picking up the pieces and building something new, sometimes it means braving new environments and welcoming new adventures; and sometimes it means overcoming loss, or letting go of something or someone that isn't good for us. Moving on takes courage, a survivor spirit, and the determination to live a fulfilling life. When we take those first steps in a new direction amazing things begin to happen!
~*~*~*~*~*~*~*~*~*
This post was written for the amazing
involving over 2000 participants from around the world!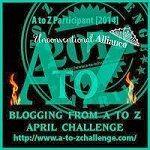 If you enjoy writing, come and join us - You can share your A-Z "M" post this week!