Six Sentences From Atop My Soapbox
~GRATEFUL~
What if today we were just grateful for everything?

It is not uncommon to experience times when it feels like nothing is going right in our lives and the entire universe is against us; one bad day or bad week and we fall into the trap of feeling doomed. But I've learned a couple things in recent years that have changed my life tremendously. The first being that there is always, always something to be thankful for, and the second is that positive thoughts attract more positive things to our lives, while negative thoughts attract negative energy that we surely don't need.

Make a conscious effort to note the good things you have in your life; start with little things like a place to sleep and food to eat - not everyone has these things, and you are blessed if you do! Make a game of it, start watching for reasons to be grateful each day; keep a list and watch it grow. The amazing thing is that no matter how down you might feel at a given moment, if you start thinking about what you do have that is good, you'll find your spirits lifting and a happy feeling growing in your heart!

~*~*~*~*~*~*~*~*~*
involving over 2000 participants from around the world!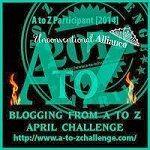 If you enjoy writing, come and join us - You can share your A-Z "G" post this week!