Six Sentences From Atop My Soapbox
~ATTITUDE~
Does Yours Need Adjusting?
It is said that we are about as happy as we make up our minds to be, and I think there's some truth in that. It isn't that life is always fun or easy, at times it's pretty hard; what matters is how we deal with it. Do we allow ourselves to become victims and wallow in self-pity, or do we persevere and find a way to not only survive, but thrive? Sometimes there isn't a way to change what is occurring in our lives or how people are behaving, but there is always a way to deal with it that won't disturb our inner peace.
We can spend our time anticipating something good, or expecting something bad; we can count our blessings or our burdens. It all depends on where we want to focus our energy, and what we want to attract more of in our lives.
~*~*~*~*~*~*~*~*~*
involving over 2000 participants from around the world!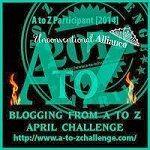 If you enjoy writing, come and join us - You can share your A-Z "A" post this week!