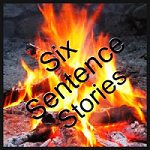 Welcome to
Six Sentence Stories
... a place for storytellers who enjoy the challenge of keeping it short and sweet - a place that includes a sense of community, interaction, and encouragement - where everyone will feel welcome to join in and develop their storytelling skills. Even if you've never done it before, give it a try! :-)
Early each
Thursday
morning I'll put up a new
Six Sentence Stories
theme post, and then you'll have a week to write a six sentence story to share. The rules to this writing prompt are simple... 1) Your post must be in story form, either fiction or non-fiction. 2) It must relate to the theme, though you don't have to use the prompt word in your story. 3) It must be a new original piece, not something borrowed or from your archives. 4) It must be exactly six sentences long, using standard sentence structure. In other words, stringing one sentence on forever and ever is probably not in best form. 5) The link you add must go directly to your
6SS
post. 6) Somewhere on your post you must provide a link to
Six Sentence Stories
. It doesn't need to be big or fancy, just a text or logo link at the end of your story will be fine. Posts that fail to adhere to these rules will be deleted from the link list out of fairness to those that do.
If you're curious to know next week's prompt ahead of time, it will be posted on the 6SS tab at the top of my blog on Friday night along with being announced in a special blog post on Saturday.
Please take time to visit as many of the other
Six Sentence Stories
participants as possible by the end of the week, we all love feedback on our efforts! Feel free to email me at
jts.2000@yahoo.com
if you have any questions, comments or suggestions.
Our 6SS theme for the Week of Feb. 12th - 19th is:
"heart"